Welcome to the Walking Works Website ::
Welcome to the Walking Works Website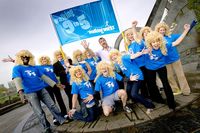 'Dolly Partons' on Walk to Work Day 26.4.07

Walking Works is an exciting new campaign designed by Living Streets to inspire you to walk more as part of your daily commute.


Walking is one of those activities we all do, but pay little attention to. Yet it can offer each of us huge benefits. It is a free and highly effective way of getting around our congested cities. And . . . . it can be fun! No two days will be the same.

Walking Works' site is full of ideas and advice for everyone including transport professionals and businesses.

We want to hear your stories!

We would love to hear your stories about walking to work and the difference it makes in your life. If you would like to tell us about your walk to work please email: walkingworks@livingstreets.org.uk and we will post them on the website.
The Walking Works campaign is run by Living Streets and funded by the Mayor of London, Transport for London, the Welsh Assembly Government and Health Challenge Wales.
Next Walk to Work Day 24 April 2008