PRESS RELEASES
Haringey's Travel Plan gets off to a great start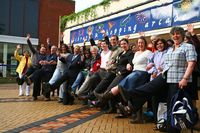 Council Staff & Walkers on Walk to Work Day
Staff from across Haringey Council put their feet to the street to mark London's first ever Walk to Work day. More than 100 council officers left their cars at home and made their way to work on foot to celebrate the event – part of Walking Works, a new London-wide campaign run by national charity Living Streets
.
And they were joined by Deputy Executive Member for the Environment and Conservation, Cllr Jayanti Patel, as they walked the final stretch up Wood Green High Road.
Haringey's participation in the day comes shortly before the council launches a new Staff Travel Plan, setting out a package of measures designed to reduce staff car usage and reduce the need to travel by car. Staff will be encouraged to adopt healthier, environmentally friendly travel alternatives, such as public transport, cycling, walking, car sharing for their journey to and for work.
Likely projects include the purchase of new pool bikes and cleaner alternatively fuelled pool vehicles for staff to use for work related journeys, improved cycle parking and showering facilities at council offices and the promotion of a car club scheme.
Published Monday 14 May 2007